We have all heard the expression "something old, something new" and here at Back in Tyme Primitives that is exactly what we do. We take those old grungy items and turn them into a beautiful product to decorate your home. We have a wide variety of items to choose from to keep your home feeling and looking comfortable.
We make homemade primitive scented room sprays and primitive potpourri that are decorative and the smell is long lasting. They come in a variety of shapes and colors. If you are looking for a place to put the potpourri, we also have primitive bowls and bowl fillers. Our business is truly unique and has just the right product for each room in your home.
It is never too late to stock up on decorative items for the upcoming season. Check out our seasonal primitive items section for upcoming seasons and holidays. All of our products leave you feeling pleased and satisfied that you are ready to decorate for every occasion.
We also have primitive blacken and grungy taper lights. The best about the primitive taper light is that it requires no flame or cord, just batteries. You don't have to worry about finding an outlet to plug the light in to or a place where nothing else will be bothered by a flame.
The primitive taper lights are practical for every place in the home. The grungy look is unique and rustic looking. To go along with the taper lights, we have primitive, rusty candle holders. You can mix and match depending on the look you are going for. In addition to our lighting collection, you'll find that we carry primitive nightlights and lanterns too.
Primitive things are great for one simple reason; they provide your home with that warm, cozy and inviting feeling, which is hard to accomplish. My guarantee is that you won't be disappointed. All of our primitive items are affordable and made with care. Please feel free to visit our website and we look forward to hearing from you!
I'm adding new primitive wares everyday. So be sure to ~~ Check Back Often ~~ There's Much More To Come!! Thanks for stopping by and please take a moment to book mark my primitive site for easy searching for all your Primitive needs.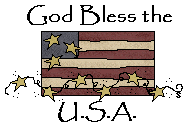 Homemade Primitive Scented Room Sprays | Primitive Lanterns | Primitive Blacken Grungy Taper Lights | Primitive Grungy Scented Taper Lights | Primitive Red Ticking Flag | Link Resources